I am not a wealthy man, but I have a lot of friends, some of them are very well off, and I am fortunate enough that my friends are very generous. Last year a friend of mine invited me to a trip to Dubai, and everything was on him. Everything from the airfare to the hotel accommodations, meals, and just about anything really, I didn't to pass up this opportunity as I would need to save up for a long, long time just to even afford a fraction of the things he was planning to do there, so I took up his offer and finally got to experience the wonders of Dubai.
Most of you are probably expecting me to tell you that we traveled via private jet, but no we didn't I didn't say my friend was a billionaire or something, he is just really well-off. We traveled business class, comfortable, a bit pricey, but not too much.
When we got there a car was waiting for us and took as to our hotel, I forgot the name, it had intercontintal in its name… but it was awesome, I had my own suite which was sweet! (I apologize for the pun), and there was a creek you could walk by which was beautiful, I have to say seeing the city of Dubai is quite jaw dropping, so many things to see and such a grand city in the middle of the desert.
The first day was a bit of like a free day for me, as my friend had to handle something that day, business or whatever, rich people problems not mine. He told me to have lunch in the hotel and just charge it to the room, which I did because I would probably be paying my credit card bill in staggered if I paid for it myself.  Later that day, I went to the mall, but unlike the ones we have back home, malls in Dubai are huge! At least the one I went to was… I think it's the largest in the world. I bought some key chains as souvenirs for people back home, yeah I am also cheap. After strolling around I went back to the hotel and enjoyed the pool.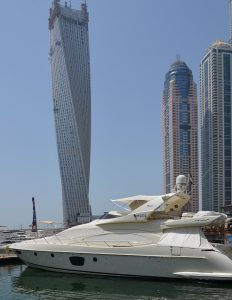 The next day my friend told me he's done with business there and that we will be going yachting. Yes you read that correctly! Yachting! Nowadays in Dubai yacht rental business is booming, there are many different yachts to choose from that suits every ones pocket. So an associate of his rented it but had to go elsewhere for business and let us use it. And let me tell you that was the best time I had riding a yacht, in fact it's currently the only time I ever rode a yacht. With so many things to see, and the view of the city from the marina, I highly recommend anyone traveling to Dubai to rent a yacht. The man made islands were beautiful, the people were beautiful, and the fellow yachters (surprisingly a word) were quite fun to be with.
Friends and family is the true treasure in life, for without them you cannot enjoy the small things in life, also some of them might even invite you to enjoy the grander things in life.
You may also like this