I am enjoying looking at my wines at the cellar when I heard a little squeak under one of the wine racks. I did not expect what I saw because I have kept the cellar tidy. I barely open bottles or even bring food there. I wonder where that lone mouse came from. Or was it really alone? What if others were lurking in the cellar without me knowing it?
Fortunately, my house was due for its scheduled pest control maintenance that time. I have contracted a pest control company to manage pest control at my house in Columbus because, in spite of my being a neat freak, I still see pests like that.
The pest control guys came to our house and did an inspection. They noticed a broken weather stripping in one of my windows, and it could be the entry way used by the rodent. I noted it for immediate repair among other recommendations provided by the pest control staff.
With this pest problem, I started thinking about shifting to other means of storing my wines. I know nothing beats a traditional cellar at home. However, as technology advances, some ways are simply more efficient and convenient. Besides, my wife wants another room to expand her pantry and craft storage. Perhaps, vacating the cellar would be a more economical option instead of purchasing a shed or building a new room for her.
I took a look at alternative wine storage and I was very pleased with what I discovered. My wine club friends also offered some advice. I listed them here so you can have a quick reference of wine storage alternatives.
Wine Racks 

Wine racks have different styles and designs to fit every wine enthusiast's taste. Since my wine collection is not that many, I feel that a well-designed wine rack will fit the bill. There are a lot of wine rack designs available, such as wall-mounted, stackable, and custom-built racks.
This is a very affordable alternative, but I want my wines stored in a temperature controlled environment like the way my traditional cellar nurses them.
Wine Cabinet 
This is my favorite alternative. Aside from being very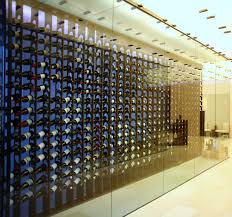 nice on the eyes and compact in size, I like the fact that it can keep my wines at the right temperature. I do not have to worry what weather we have for the day because the wines will always be in the most conducive environment.
I was also blown away by the different cabinets available. It makes the decision-making a little tricky, but how can you go wrong with these options.
Single temperature wine cabinet 
This wine cabinet is suitable for beginners starting their wine collection. The temperature is set to the most ideal, so you do not need to fuss on the dials anymore. They come in sizes that will surely suit your space and requirements.
2/3 temperature wine cabinet 
Now, this is what I am eyeing. This wine has two or three sections with varying temperature setting. This is perfect for wine connoisseurs and enthusiast who have a larger wine collection that have different temperature requirements.
I am so drawn to the 2/3 temperature wine cabinet. I will tell you more about it once I have tested one at home.
You may also like this